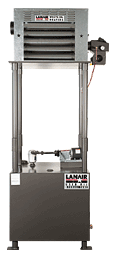 From large fleet operators to small businesses, everyone benefits from clean, cost-efficient waste oil heat.
Low Cost

Fed up with high heating costs? As energy prices climb, waste oil heat is gaining popularity.
Not only does waste oil heat reduce your heating bills, it also eliminates the cost to haul used oil off-site. Waste oil heaters usually pay for themselves in 12-18 months—and a warmer shop can lead to higher productivity. 500-1000 gallons is all the used oil you need to save thousands of dollars each year. Use our ROI calculator to find out how much your used oil could be worth!
Environmental Benefits

Burning waste oil to obtain "free" heat is an environmentally friendly way to deal with one of the industry's major pollution problems. By turning a waste product into a valuable fuel, you help to conserve natural energy sources and protect water and soil resources from oil pollution. Emissions are similar to burning standard fuel oil, plus on-site recycling reduces the chance of accidental spills, improper disposal, and vehicle emissions generated during transport of the used oil off-site.
End Cradle-to-Grave Liability
The liability for proper disposal of used oil extends from the moment it drains into your oil pan until it is processed or burned. This includes any accidental spills or intentional dumping by a used oil hauler. However, the U.S. EPA exempts the generator from that liability when used oil is recycled on-site for energy recovery. By burning used oil in Lanair heaters in accordance with EPA regulations, you eliminate superfund liability and uninsured expense, while gaining an economical source of heat.
Technology & Safety
The latest and best used oil-fired heaters incorporate atomizing technology. These units operate much like a typical oil-fired heater for a home or business. Atomizing units are much more efficient and burn cleaner than the old vaporizer units, sometimes called "pot burners." All UOMA units employ atomizing technology.
All UOMA space heaters are safety-rated by Underwriters Laboratories and/or the Canadian Standards Association.
Used oil-fired heaters can safely burn #2 oil, used crankcase oil, automatic transmission fluid and hydraulic oil. Burning anything else in a used oil-fired heater is not permitted by the governing regulations, is strongly discouraged by UOMA, and will void the heater's warranty.
UOMA advocates the safe and efficient on-site recycling of used oil as a fuel in a used oil-fired space heater. UOMA was founded in 1982 and represents the manufacturers of 90 percent of all the used oil-fired heaters produced in North America.